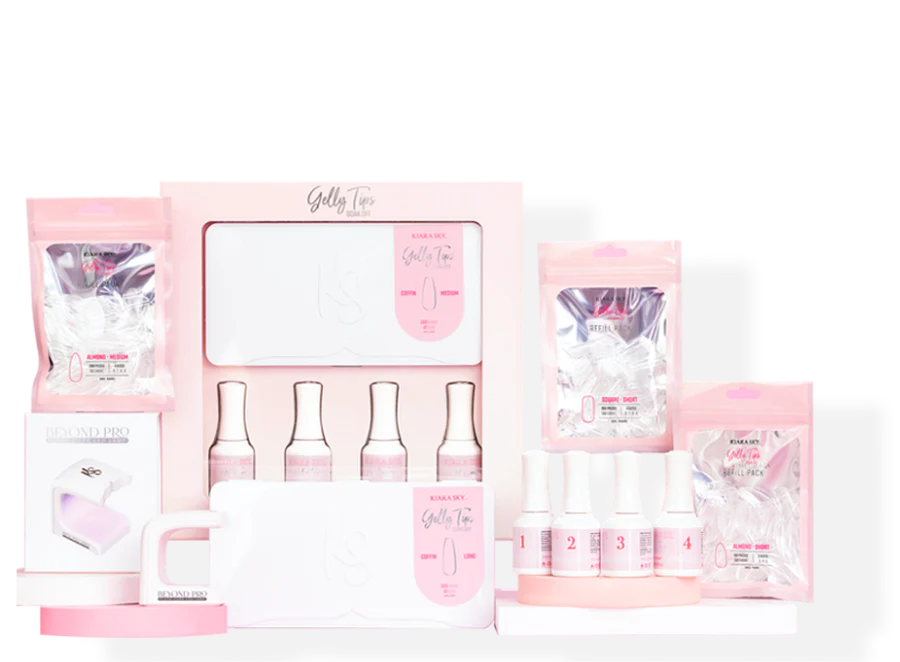 KIARA SKY
GELlY TIPS
- Full Cover
- Long Lasting
- Easy to Apply
- Pre-shaped Gel Nail Extensions
- Ready to Apply
At Kiara Sky, we believe in beautiful nails that apply fast, look good, and last long — and this is where Gelly Tips come in. Gelly Tips are just as durable as acrylic nails (but more flexible) and just as easy to apply as glue-on nails (but longer lasting)
Choose between the Starter Kit that include all the products you need to apply properly the Gelly Tips or you can buy only the case with the shape you like!
CHOOSE YOUR STARTER KIT
The Kiara Sky Gelly Tips Starter Kit is a complete gel nail extensions kit. Pick your favorite nail shape and size and get everything you need to apply perfect gel nail extensions.
OR CHOOSE THE GELLY TIPS CASE
From long coffin nails to short square nails, our gel nail extensions are available in multiple shapes and lengths. Find the shape and length that's perfect for you.
AVAILABLE IN MULTIPLE SHAPES AND LENGTHS
CHOOSE THE SHAPE YOU LIKE